Good morning, Toon Army. We're declaring today Andy Carroll Day!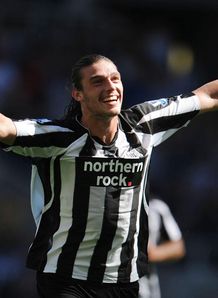 Who doesn't love this man?
Photo courtesy of Sky Sports

The big news, of course, is that
Andy Carroll has signed
a five year extension. Exact terms have not been disclosed, but this is no doubt a good deal for both Andy and the club. The club gets a discount for locking him up early, but Andy still gets to seek another deal while still in his prime. We also have the added bonus of not having to read so many articles about over-spending teams sticking their nose in our business. I am terribly excited about this. (James Riach, Sky Sports)
Now that his surgery has been deemed successful,
Hatem ben Arfa's focus turns
toward what is sure to be a long and lonely road to recovery. (Luke Edwards, The Journal)
Ed Harrison reports
(I'm not sure what the source is and I haven't seen this anywhere else, but Ed is not in the habit of making things up) that ben Arfa refused to accept a visit from Nigel De Jong while he was still in the hospital in Manchester. (nufcblog.com) Yesterday, I linked to a piece from MirrorFootball
written by Robbie Savage
that called for an end to De Jong's "scissor tackle" in the Premiership. Today,
Simon Mullock of the same publication writes
that Dutch manager Bert van Marwijk was "cowardly" for kicking De Jong off his team, albeit temporarily. Mullock goes on to state his incredulity that someone would want to take contact out of football. This remark reminds me a lot of the columns that were written here in the States when the NFL banned the "horse collar tackle." Columnists bellyached about how the sport was going to go soft and players would stop being aggressive. A couple of years have passed now, and the game is as physical as ever. There is now pretty much a consensus that taking the horse collar out of the game was a good and necessary move. Put away your slippery slope arguments, people. Stop trying to be purists. Dangerous tackles do not belong in the game. Period.
Steven Taylor chronicles his long journey back
from injury and expresses his frustration with not being able to play. I'd wager that Hughton puts him out there as soon as he's declared ready. (Luke Edwards, The Journal) Now there is talk the
Celtic are interested
in grabbing Taylor on a loan. (Alan Nixon, MirrorFootball)
Chris Hughton is not worried
about the Magpies' lack of form at home. (Mark Douglas, The Chronicle)
Ole Soderberg (sounds more like the name of a cheap whiskey than the name of a young player, doesn't it?), Newcastle's #2 goaltender who not long ago was #4 on the depth chart,
says he is ready
to play at the Premiership level if needed. (Mark Douglas, The Chronicle)
Those of you who have followed us closely (and we know you're out there) know that RKW and I are huge fans of our local baseball team, the Texas Rangers. In lieu of Non-League Day tomorrow, we will be attending the Rangers' first home playoff game in 11 years. Cheer for a sweep with us!