Good morning, Toon Army. I think a blowout would have been better for my psyche.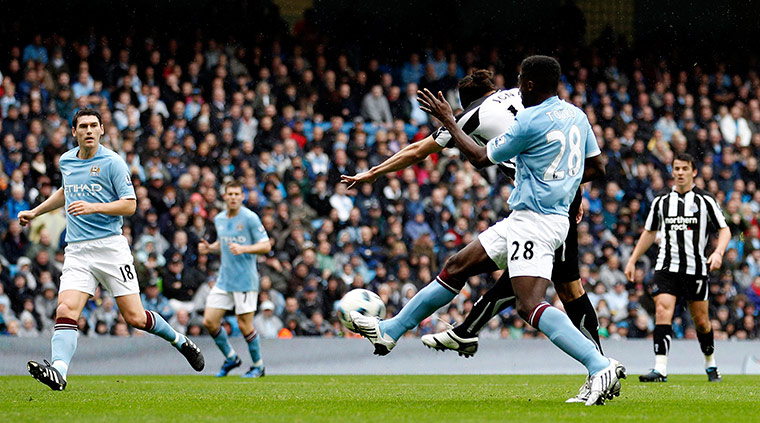 The lone bright spot.
Photograph: Carl Recine/Action Images

Match Reviews:
The Mirror
calls the result controversial. You don't say.
The Guardian
- Here is the
minute-by-minute recap
if you're a sadist and want to relive all of that.
The Northern Echo
(Scott Wilson)
Sky Sports
ESPN Soccernet
BPL Official Site
The Sun
(Neil Custis)
Ed Harrison
toonsy
-
Video Highlights
.
He also called Martin Atkinson
a "home ref."
Don't forget to watch for Reasonable Reaction Tuesday Monday.
A video
of the Nigel De Jong tackle for your review, along with some of his "greatest hits." Clean or dirty? You tell me. (The Shin Guardian)
The injury has been confirmed
as a fracture of both the tibia and the fibula. (nufc.co.uk)
Chris Hughton criticized
the tackle. (Sky Sports, video)
Chris Hughton was (understandably) very upset
about the two penalty decisions that referee Martin Atkinson made (and didn't make). (BBC Sport, video)
Chris Hughton didn't select Andy Carroll
yesterday because he's had a virus and a "dip in form" recently. (The Sun)
Carroll will find out
if he's been selected by The Three Lions today. (Lee Ryder, The Chronicle)
Ryan Taylor is frustrated
that he can't crack the Starting XI. I am also frustrated for him. (Sky Sports)
Newcastle is said to be interested
in Adel Taarabt of QPR. (Caught Offside)