The idea behind Reasonable Reaction X-day is that sometimes we need a couple of days to let our emotions go before commenting on a game. This is our attempt at some semblance of objectivity.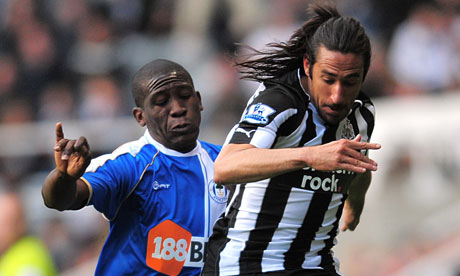 This man made a huge difference, especially when he was moved to the right side.
Photograph: Steve Drew/Empics

A draw is perhaps one of the most unsatisfying things in sports. As an American, one of the obstacles I run into most when trying to convince my friends of the merits of soccer is that they can't handle a sport that seems so content with not settling the score on the field. Doing battle for 90 minutes and then not getting a result is something I've had to get used to as a fan of a Premiership team; in fact, calling a draw a result at all is still not something I'm used to. Still, what I have gotten used to is the fact that there are good draws and bad draws. I can't decide which this is.
On one hand, Wigan is a very beatable team. Before the season started, I had them pegged as a serious relegation candidate, though to be fair one of the other teams I chose sits alone at 6th in the table right now. To draw with a team of that caliber feels like a loss, especially at home.
On the other hand, save for a crucial couple of minutes in the first half, The Magpies dominated play to the tune of 57.5% possession while spending 60.5% of the time in Wigan territory. Granted, much of that was a result of Wigan playing conservatively for much of the second half, put part of it is also due to a passing success rate of 83.0% and a success rate on tackles of 90.0%. For the most part, Newcastle played sound football. Hughton had the defenders playing a high line again, and though you could probably blame the second goal on that line, it worked for the most part. Besides the two goals, Wigan strikers only managed to get one other shot off inside the box, and they were caught offside 6 times.
Not that there weren't problems with the play. Charles N'Zogbia proved once again that one some days all it takes is a defensive breakdown and an unstoppable laser shot to put your team on top 2-0. James Perch was out of position all day; I wonder if he feels uncomfortable playing that far forward. Tim Krul's performance left something to be desired. He wasn't terrible, but when you're truly tested three times, to come up wanting twice is borderline unacceptable. Danny Guthrie also proved, in my opinion, that he belongs in the back, not on the wing.
The verdict? While I still wouldn't call this a
good
draw, it is an acceptable one, if only because it seemed to reveal a character we weren't too sure this team had. Hopefully, the loss of two points won't hinder us in the table down the road, but it's early enough that they can certainly build on that late frenzy and turn it into something profitable.
Talking Points:
1 - Charles N'Zogbia's celebrations - fair or foul? Traditionally, players don't celebrate when they score on their former teams. Did this sit well with you?
2 - Do you like Jonas Gutierrez on the right side, as he was late in the second half?
3 - What do you think of Andy Carroll's proposal that he and Shola Ameobi play up front from now on?
4 - Consider the following: In the final 16 minutes (plus stoppage time), Newcastle had 4 shots, 3 of them from well inside the box. Suppose Coloccini hadn't finished the final shot. What we have here is a lack of execution. Should that have gotten Chris Hughton sacked?
Video Highlights at
CaughtOffside
.
NUFC Facts
Goals: Ameobi 72', Coloccini 90+4'
Yellow: Tiote 55', Carroll 88'
Lineup: Krul, Coloccini, Williamson, Jose Enrique, Perch (Ranger 88'), Barton, Gutierrez, Guthrie (Routledge 66'), Tiote, Carroll, Lovenkrands (Ameobi 61')
Unused Subs: Soderberg, RTaylor, Kadar, Smith
CHN Man of the Match: Cheik Tiote
by Guardian Chalkboards