Good morning, Toon Army. There was so much content on the Joey Barton situation that I felt the need to make a separate post covering it all. I'd like to think that with a match coming up on Saturday that all of the attention will calm down over the next day or two, but I have a feeling that we'll be writing about this for weeks to come.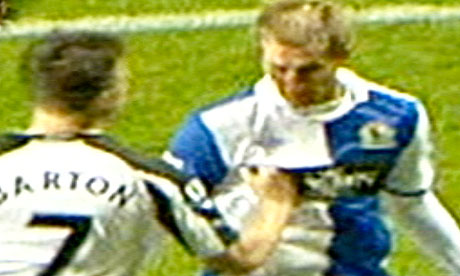 Punch in the chest: 3 games. How many would it have been if it was in the face?

Joey
Barton has decided not to appeal
the FA's decision to charge him with violent conduct, meaning he will be suspended for the next three matches, which are against Fulham, Bolton, and Chelsea. He also apologized to just about everybody he could think of. (Lee Ryder, The Chronicle) Blackburn forward Jason
Roberts had some harsh words to say
about Barton, (Sky Sports) while Morten Gamst Pedersen, the recipient of Joey's punch,
invited Joey out to dinner
as a peace offering. What a class act. (Simon Bird, MirrorFootball)
Meanwhile, since Joey Barton is a lightning rod for criticism, people from all over are taking the opportunity to say their peace about him.
The Guardian
listed all of Barton's indiscretions without commentary, then
Barry Glendenning and Rob Bagchi
of the same publication said, among other things, "a leopard cannot change its spots."
Harry Redknapp
chimed in as well (What on earth is doing writing for The Sun of all things? Oh well, another topic for another day...), saying that Barton's indiscretion will definitely hurt Newcastle's play for the next three games.
Simon Bird of MirrorFootball
says that all of Joey's progress that he's made over the last few months was erased in just a moment.
Lee Ryder
says that all of the criticism aimed Barton's way is overblown.